Thanks to Dr. Alfred Russel Wallace for this fascinating online article on Zoroastrian Hindus in modern-day Azerbaijian from a travelogue dating from the 1920s, translated and posted by Soli Dastur.
About hundred to two hundred years ago, our Hindustan used to have a very good trade with the Central Asian cities like Samarkand, Bokhara, etc. Also, many Hindu traders from Hindustan used to visit Baku for trade. North Indian Hindu traders from Sindh and Multan (now in Pakistan) used to take part in this trade and used to visit Baku. This temple was erected to satisfy their religious needs.

Our Hindu brethren also consider Fire ("Agni"Â?) as a God. The natural gases emit from earth at this place, which will ignite into a continuous fire ball by any sparks. Hence here at the mouth of fire naturally originating from earth, they established a Hindu Temple for fire worship. After a few years, the original trade routes and customs changed and the visits of the Hindu traders diminished. And from the original group of the Brahmins, some passed away and a few that were left went back to their original home land. At this place, they showed me a long room and informed me that some 40 years ago, the Russian Czar, Alexander III, visited this place with a desire to witness the Hindu Brahmin Fire ritual. So the local officials gathered a few Brahmins still living here and they performed the fire ritual in this room in front of the Czar.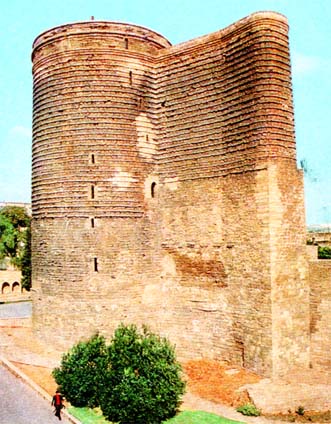 Qala-e Duxtar, tower temple of fire.
The purpose of the book, which brought the author across the ancient world, was to search for clues about Zoroastrian civilization. The religion and ceremonies of the religion spread across kingdoms from Europe to India to China, but ended with the Sassanian Dynasty's glorious empire destruction by the Islamic Arab invasions of the 7th century.